Top 5 Alabama State Parks with Cabins, Chalets, and Cottages
Here are five awesome Alabama state parks with cabins that can accommodate your big family and offer a lot of fun. For big families who want to have fun outdoor vacations, the best destination is always a stay at a state park. You can enjoy many things from mountain chalets to rustic cabins, these Alabama state parks have everything you need.
Lake Guntersville State Park
This state park is located on the banks of the Tennessee River in Northeast Alabama. The Lake Guntersille State Park has about 6,000 acres of natural woodlands where you can enjoy many outdoor activities. Furthermore, the iconic lake spans about 69,000. Near the lake, you can enjoy outdoor activities, such as relaxing at the beach area, accessible trails, horse raids, multi-use trails, and ziplining, on a budget.
In the area, you can also find the Town Creek Fishing Center where you can get all the fishing and other pieces equipment. For example, bass boat rentals, pontoons, flat-bottom boats, two boat ramps, and canoe.
For accommodations, you can stay at the Mountain Top Chalets located on Taylor Mountain. Here, families as big as six, can sleep with no problem. The chalets are also furnished with kitchens, cable TV, two bedrooms, one bathroom, and a living room. One bedroom will have a king bed while the other room has two double beds. There is also handicap accessible chalets with 2 beds. Of course, the kitchen will also be equipped with cookware and utensils. Easy to see why this makes our list of Alabama state parks with cabins for the family to enjoy.
Gulf State Park
The Gulf State Park is located on the scenic Alabama Gulf Coast. The area is surrounded by white-sand beaches. You can also find miles of hiking trails here. Big families can easily hike together while enjoying the scenery. If you love surfing, you will be pleased with the waves here. Many surfers love coming to the Gulf State Park to surf.
Another popular outdoor activity you can do here is kayaking or paddleboarding on the Lake Shelby. Families can enjoy learning about these activities and others, like fishing and learning abut nature. There is an education pier and the Nature Center that can offer various learning programs.
The wildlife here is also thriving, as there are over hundred different species in the area. You can find various animals from bobcats to coyoted, even shy beavers can be seen easily. If you want to learn about fish, you can try fishing. Some common fish you can find are mullet, blue crab, trout, and bass. As mentioned above, don't forget to rent canoes and kayaks to make your fishing activities more fun.
For accommodations, you don't need to worry. The Gulf State Park can accommodate big families. If you want to stay in a cabin, you should check out Lakeside Cabins. There are about 19 fully-furnished cabins that you can choose from. All of them have various bedroom options as well. Each cabin features a dining area, full view of the park's scenery, and full kitchen. Last but not least, there is the Woodside Restaurant where you can enjoy various meals while enjoying the park.
Joe Wheeler State Park
If you want to enjoy a lakeside gateway to the fullest, head down to the Joe Wheeler State Park. Here you can enjoy many activities on the golf course, meeting spaces, and docking slips. From fishing to boating and sailing, you can enjoy many activities on the lake.
The view here is also amazing. You can enjoy everything the state park has to offer while relaxing on the lake. And don't worry about the cabins and cottages, as they can accommodate families of 6 to 15.
Lakepoint State Park
Located on the banks of the Lake Eufaula, the Lakepoint State Park offers many services that could satisfy your family. Here, you can enjoy a swimming complex, tennis courts, playgrounds, hiking trails, a full-service restaurants and lounge, and marina. As you can see, everything that you will need during your vacation is available here. You can spend time near the area, or venture further and enjoy nature.
Furthermore, the 3-bedroom Lakeside Cottages can accommodate families of six. Each room has two bedrooms with a queen bed in each and one bedroom with two small twin beds. The cottages also equipped with 1.5 bathrooms and full kitchens.
Oak Mountain State Park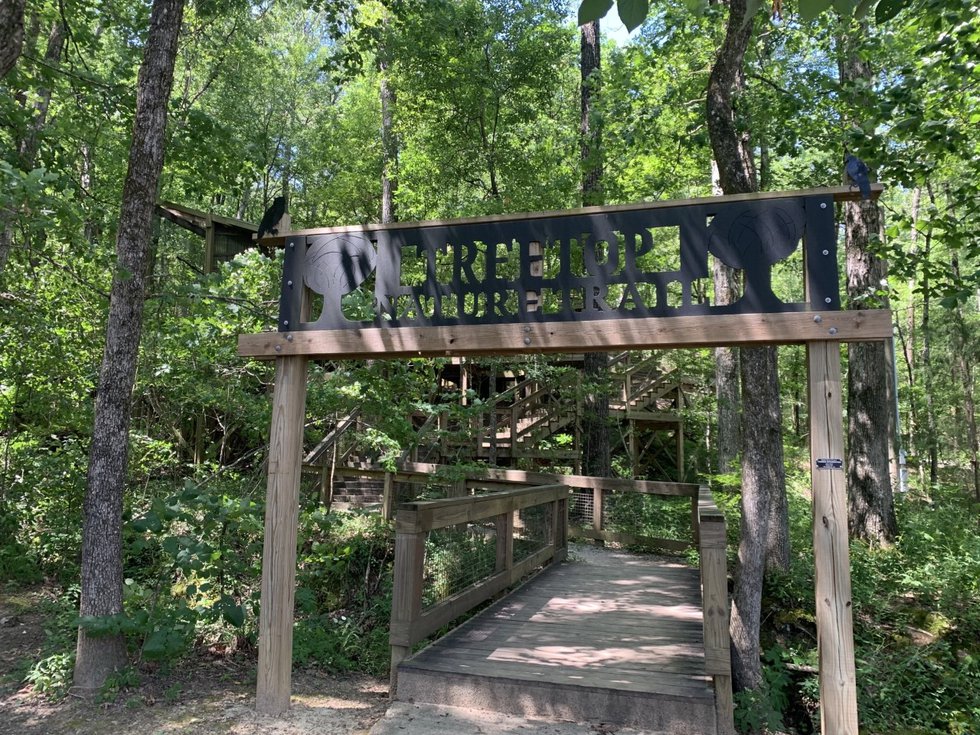 Oak Mountain is the largest state park in Alabama, so don't be surprised to see how popular this place is. Not only that, but the state park is also located only 20 miles south of Birmingham. If there is anywhere I can say as the number one place you should visit in Alabama, that would be the Oak Mountain State Park.
The 9000-acre state park has plenty of activities for your entire family. You can find over 50 miles of mountain biking, trails, and hiking here. Furthermore, there are many mountain bikers visiting the state park every year. And there is more, you can enjoy the watersports, golf course, beach, fishing lakes, horseback riding, and cable skiing.
If you love nature and can't enough of it, the state park offers the largest natural areas in Alabama, complete with educational programs and nature conservancy. You can stop by the Alabama Wildlife Center, the Oak Mountain Interpretative Center, and the Tree Top Natura Trail. So many options, and of course, you can visit all of them.
Closing Thoughts on Alabama State Parks With Cabins
Any one of these five Alabama state parks with cabins can provide a ton of fun during your vacation. So bring your family down to one or even all of these state parks and enjoy the activities and wildlife.